Awesome Home Interior Design Ideas For Small House
Home is a beautiful place that simply reflects one's sense of taste, style and personality. We all give it our best when it comes to making our homes look attractive and beautiful. But the real challenge often lies in transforming small houses with simple interiors look spacious, elegant and classy. While it is easier to be creative and stretch your imagination for a large house, it could be equally difficult when it comes to transforming smaller spaces. To all those who are struggling with this challenge, we have come up with fabulous, modern ideas that shall inspire you to make your home look elaborately spacious and beautiful! Here are some really awesome tips that can help you optimise small interiors smartly.
Integrate your entire living space-
Making a small house look spacious is indeed a task. However, one can simply integrate the living spaces to make it look and feel more spacious. Remove as many walls as possible to have one large spacious room than having multiple small congested rooms. As an alternative to walls, you can make use of stylish silk curtain panels to visually separate the living room from the dining room. You can even opt for glass walls for your modern living rooms to make it look larger than usual.
Create different spaces
Think and list down the spaces you need to create for your work, sleep, food and entertainment to establish separate spaces for the mentioned activities. For small apartments, you can create separate spaces for each activity by incorporating smart design ideas. For instance, you can create sperate rooms with a curtain, or incorporate glass walls to create a partition or separate room for a specific activity. Strategically make use of foldable tables and chair, or even multi-purpose furnishings to convert the room to what you want at any given time.
Light shade colours-
When it comes to simple interior design ideas, an interior designer will first begin with the walls and floorings of the house. Speaking about the walls, the colour you choose for it surely has a huge impact on the looks and interiors of your home. One of the most common decorating ideas suggested by interior designers for small apartments is to choose subtle shades of colours for home walls. Light shades do not just give the room an elegant touch but also makes the room look larger and airy. However, it is also equally important for you to ensure that you do not make the house look dull and clinical with light shades. We suggest you select a single shade for all the walls and throw some colour to the room with beautiful cushion covers, curtains and carpets. You can even opt for dark shade furniture's to compliment your interiors. Avoid using wallpapers with heavy patterns on them, as they make the room look smaller. It is advisable that you stick to walls paints and choose the same colour for the flooring to create an illusion of more space for a small house. Even if you select a dark shade colour for your walls ensure that the colour makes the room look wider and not small.
Ensure the living space is well lit-
Lightings play a critical role in transforming the looks of your home. Bad lighting can end up making your home look small and gloomy. On the contrary good lighting makes the room appear brighter and larger. Having dark patches of corners in your small apartment will shrink the visible area and make the place look smaller. Make sure all the rooms are all well-lit featuring concealed lighting fixtures on top of furnishings and cabinets thus eliminating any dark spaces. Interior design hacks are all about making slight alterations and incorporating smart design ideas to trick the eye into making space look larger.
Large glass windows and doors-
We recommend you knock down large walls and enlarge your windows. You should even swap doors with glass partitions to connect adjacent spaces and create an open view of the living space. Let there be a flow of space and an open view in your room to make it look larger.
Even-toned texture for the rooms-
You will come across many interior design ideas that can transform the looks of your home to a spectacular spacious living space. One such idea for simple interior design is to incorporate even-toned texture to your rooms. This can help create an illusion of the rooms being larger and spacious than they are in reality. Add subtle patterns and textures to the rooms and living spaces, to prevent them from looking dull or falling flat.
Be the master of illusion-
Mirrors are said to make your rooms look wider than they actually are. This is probably the best and the oldest trick adopted by most interior designers in Mumbai to make your modern living rooms look large and spacious. Mirrors make space look lighter and spacious. Place a large mirror in the opposite direction to a window in your living room and it may possibly be the simplest way of creating an illusion of a larger room. Consider using glass walls as a partition to your living room and dining room. This is another way to make space look larger. Further, we suggest you keep your space as open as possible, with doors to the other rooms open to make the entire space flow together and look spacious. If you plan to place furniture's, then we suggest you opt for furnishings with legs. This offers a view of the floor space beneath your furniture which automatically makes the room seem bigger. As professional interior designers, we suggest you make the best use of the spaces you have in each room to make it look fabulous.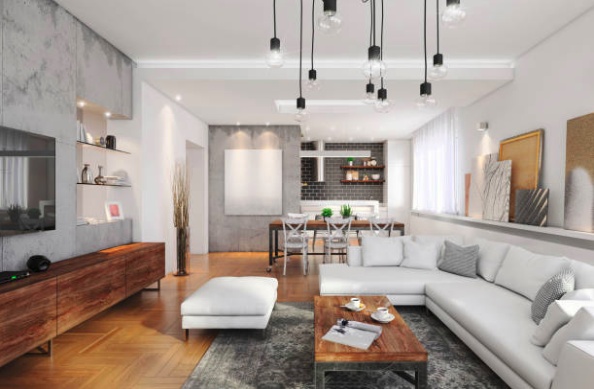 Make use of large rugs for your house flooring
As mentioned earlier, walls and floors form an essential part of the interior designing project of any given housing apartment. We suggest one begins with transforming the looks of the flooring with beautiful rugs. Considering interior design for small apartments, we suggest one makes the most of the space by using large rugs for the floor. Select a light-toned or a neutral coloured rug that is large in size for the floor and makes the room appear expansive and plush.
Multi-functional furniture's-
Make use of furniture's that are multi-functional by nature. For instance, you can use a sofa come bed to save space. Convert the bed to a sofa and vice-versa as and when based on your requirement. This saves in a lot of space and ensures no clutter for a small apartment. You can even purchase a table that can work as a desk and a dining table or purchase cubes that serve as a coffee table and as a seat for guests when they come over to your place.
Smart dining tables-
We suggest you ditch those traditional large dining tables for a small round one to gain some extra space in the dining room. You can even opt for smart furnishing by purchasing folding and extendable dining tables for your dining room. This shall give your small home the much-needed flexibility and space for the dining room.
Smart foldable wall desks-
If you have space constraints for creating a separate room as an office, we suggest you install wall mounted desks. This surely takes a lot less space than the regular desk. Moreover, you can customize and build shelves about it on the wall to be used as a storage space for your office files. Furniture that can be folded, can also be stored away when not in use. This is essential for small living spaces. Such furnishing doesn't really take up any floor space. Ideal for work from home, people can conveniently shut the office space at the end of a working day. With collapsible wall-mounted tables, you can fold and store anything you want easily. This type of smart furnishing facilitates maximum use of floor space in case you have extra guests coming over. It also facilitates the storage of items that you do not use on a daily basis.
Wall-mounted TV-
We always recommend houses having space constraint to mount their Tv's on the wall rather than have it placed on a stand. With this, you will surely gain more floor space in your small living room. Follow the motto of smart interior design for your living space and you are sure not to feel the pressure of owning a small apartment.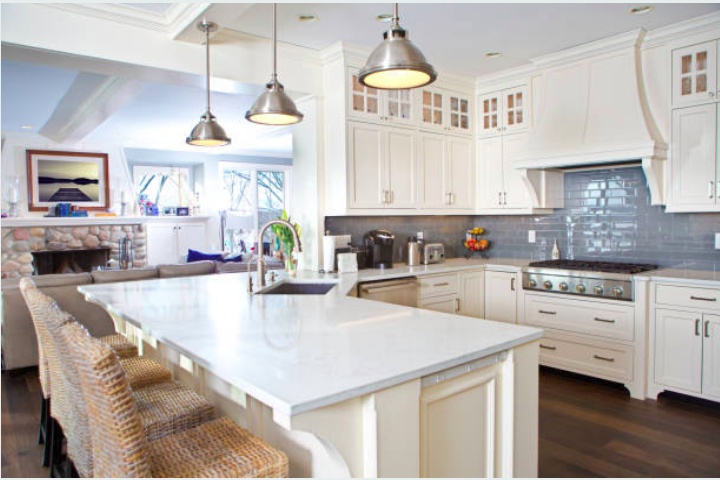 Make use of fewer furnishing-
Well, it goes without saying that the lesser furnish clutter you have the better it is for small apartments. In fact, we would suggest you buy fewer but large furnishings to make the rooms look grander. Maximize the space as much as possible, but at the same time ensure you do not create clutter with additional and unwanted decors and furniture. For modern living rooms, we suggest you select furniture's that offer maximum functionality in minimal space.
Consider glass furniture-
For modern living rooms, it is highly recommended that house owners buy glass furniture to create the illusion of space. Since glass furniture is see-through and provides a clear view beneath them, they make the room looks spacious displaying larger living area.
Install sliding drawers-
Purchase wall mounted cabinets or sliding units to make the most from the limited space you have. Design ideas like these shall not only provide you with a better storage facility but also make the room spacious.
Customized smart storage
You can build bespoke storage nooks, and furniture with storage, customized to your exact requirement, based on the floor space. Further, when the storages are in the form of wall-mounted cabinets you do not lose the valuable floor space. Having not just good storage but having smart storage is also essential for a small house. Customize storage and furniture to enjoy the extra space you gain from it. Making shelves and cabinets on walls and furniture's like a bed with drawers will provide you with lots of additional spaces for your personal items.
Maximize Space utility
Every inch and corner of your apartment counts when you are living in a small apartment. Maximize spaces in and around the window to convert them into multipurpose storage and shelves. Simple interior design is all about building multi-purpose furnishings and creating tons of extra space for other stuff. Make sure you make use of every space to enhance the beauty of your home. Make use of spaces between the top of the furniture and the room's ceiling. Here you could mount shelves for storage or make book racks for displaying your collection of books. You can even install cabinets on the wall, to make the room look higher. You can rather have a number of drawers built on the wall instead of a side table. This interior design idea makes for a great space saver for small apartments.
Avoid cluttering your apartment-
People living in small apartments should avoid getting clutters the home. Take smart and wise decisions on interior design ideas and only implement the ones that best suit your living space. Lesser furnishing and decors make the room feel much wider and less cluttered. When it comes to small apartments, always remember the lesser you have the more floor spaces you earn. People always end up with more elements placed in limited spaces, making the room look congested and cluttered. However, we do not recommend to strip down your rooms to bare minimum essentials, but rather consider what is really required and how best can you place them out of sight with interior design ideas for a small house.